Main content starts here, tab to start navigating
About
Chef Gabe and Chef Nate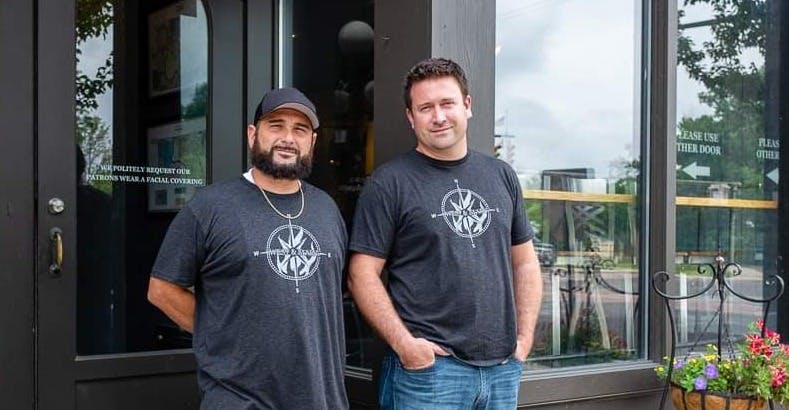 The Chefs' Journey
Chef Gabe Gouvas
I was born in Warren, Ohio, and moved quite a bit until middle school, where I eventually moved and settled in the suburb of Champion. I graduated from Champion High School in 2002. After graduation, I moved to Scottsdale, Arizona, where I received an associate degree in culinary arts. In 2004, I moved back to Warren, where I worked in many well-known Valley restaurants. I have received many accolades for my work in both Colorado and Columbus.
After pursuing other interests outside of the kitchen, I decided to fulfill my dream of owning and cooking in my restaurant right here in downtown Warren! My partner Nate Barker and I are committed to bringing great food and a fun atmosphere to the people of Warren. Our lunches will consist of large sandwiches and salads that are fresh and seasonal. Creative styles of fresh-cut meat and seafood will be offered for dinner and paired with farm to table additions. We invite all to come in and experience our vision come to life!
Chef Nate Barker
A native of Warren, OH, and a 2000 Graduate of Warren John F. Kennedy High School, Nate now resides in Cortland, OH with his wife Carissa and their two children.
Nate began his culinary career as a prep cook and dishwasher at the Trumbull County Country Club while in high school. Nate went on to culinary school at the Le Cordon Bleu, in Pittsburgh, PA. While in Pittsburgh, Nate worked for Hyatt Hotels.
Returning home to Warren in 2003, Nate manned the stoves at area establishments like O'Donald's Irish Pub and The Chophouse. Nate spent 5yrs as an Executive Chef for the Springfield Restaurant group, before spending another 5yrs with the Driftwood Restaurant Group in Downtown Cleveland. With Driftwood, Nate ran the kitchens at The Welshfield Inn, Hodges , The Green Rooster, and Driftwood Catering. Most recently Nate was a food service sales representative for Northern Haserot, out of Independence, OH.